A warm welcome to the empowering others section of the web site.
Throughout my career I've been fortunate enough to have had many great managers who've assisted me and guided me in my work. However, that said I've also had one or two not so great managers and it's the not so great managers that I'd like to say a few words about now.
Ineffective Managers Micro Manage
I think that one of my main gripes with the less effective managers that I experienced was their insistence on telling you exactly how they thought a particular problem should be fixed. There is nothing more demotivating than been told exactly how a problem should be tackled and solved.Giulia Forsythe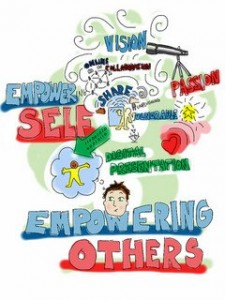 (Photo Credit: Giulia Forsythe)
Before Empowering Others Start by Clearly Defining the Problem
A much better leadership approach would be to work with those who are close to the problem and get them to define the problem in detail and ask them what they would do to put things right.
Don't Restrict the Team to Just Knowledge Experts
But one shouldn't stop there though – people who are close to a problem are great for helping to define the problems but aren't necessarily the best people to solve them. Try also reaching out to folk with no knowledge or experience of the problem. These people will have less pre-conceived ideas and so may come up with completely new and unique solutions to a problem domain.
Facilitate and Guide Your Team
The leader should then use her facilitation and communication skills to help guide the conversation towards the most effective solution.
Empower Those Who Show Passion
A next step would be to empower those who appear to be passionate about resolving the problem and who are coming forward with potential solutions. Put a small team together of people who think they can implement a solution.
Of course, as a leader, you should make yourself available for questions and advice where required and continue in a role as facilitator but ultimately you should encourage the team to lead the process through to a successful conclusion.
Teams who are empowered to solve problems by themselves are generally more motivated due to their sense of ownership.
Go From Empowering Others To Leadership Skills
Go To The Home Page