Are you caught in a power trap where you're constantly dealing with the high priority or big strategic type issues? Be careful if you are. High powered positions that constantly demand that you focus primarily at the top level can result in you losing touch with employees in lesser positions.
Don't Undervalue Your Employees
Undervaluing or acting impatient with the employees who run the day-to-day operations of the business is easily done and detrimental to all. To avoid this you must schedule time to make yourself available. An open office door policy is not enough. Walk the floors and speak to the employees. This is a great way to build relationships and ultimately ro get a true feel for the dynamics and culture of the business.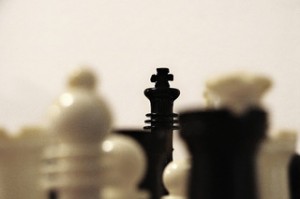 (Photo Credit: G CACAKIAN)
Meet Your Extended Team
Also consider arranging a one-over-one meeting sometimes referred to as a skip-level meeting. In terms of frequency try to do these bi-annually.  There is no need to do this on a one-on-one basis. For each of your direct reports, arrange to meet their teams in each individual meeting.
Team dinners, lunches or even breakfasts are another great way to get closer to the people who are within your department or division. You can also use these as a reward for a project coming in on time or under budget.
If you simply want your entire team to get to know you better as a person and a leader then you might want to consider a town hall meeting. Use these meetings to also provide guidance on what your vision is for the business. Book a large meeting room or take over the cafeteria and invite all who ultimately report up to you. If you know the business and its external environment well then take random questions. If you're new to the role then ask for people to submit questions prior to the event. Pre prepare answers and let individuals know if they will be expected to ask their question at the event.
If you fear that some employees may be suspicious of your motives then volunteer to take anonymous questions prior to the event that you can answer on the day.
If you're confident enough to take live, unprepared questions then make sure that you listen carefully prior to answering. Re-state the question or ask for further clarification. This shows that you are listening and buys you a little more time to come up with an appropriate, well thought out answer.
Reward Participation
If people do speak up and raise questions with you, thank them for doing so, never belittle them, make jokes of them or put them down in any way. Make all concerned aware that you value their knowledge, ideas and opinions. Make it clear how you need them to help the business succeed and grow.
Reflect and Request Feedback To Ensure You're Not Still Stuck in a Power Trap
In everything you do spend some time to reflect. If useful reach out to your direct reports and their teams for feedback. What do they like about your leadership style? What could be improved? Etc.
Don't be defensive if you get back answers that you weren't expecting. Note what needs to change and find ways to make those changes happen.
With careful thought and awareness of your wider team you can break free from a power trap.
Go To Team Building
Go From Power Trap To The Home Page