A warm welcome to the how to be a better boss section of the web site. These days' people are so busy it's often easy to place all your focus on your immediate work at the expense of avoiding effectively leading and managing your immediate team.
Are you meeting your employee's needs and requirements? Providing them with tasks that match their strengths and skill sets while being challenging enough to keep them motivated. Are you providing regular and constructive feedback to guide them through their career and help them grow as individuals?
There is also the notion that we know what we should be doing and therefore think that we are performing as such. But there is a big difference between knowing what to do and actually doing it.
To get a true perspective of your actions and behaviours consider doing a 360 appraisal where your peers, customers and employees get chance to rate you and comment on certain leadership traits. Alternatively just directly ask for feedback.
If you want to be a better boss then you are going to have to start with this kind of self-awareness.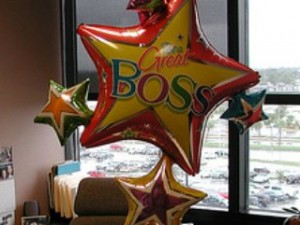 (Photo Credit: Bart Everson)
Trust
Often improving leadership skills is simply about letting go a little more, giving people the responsibility to see things through to a successful conclusion and showing them that you trust them to get the job done well and correctly.
Remember trust is a two way relationship and you can get more trust from your employees by being more open and transparent with your plans, actions and communications.
Only hide things from your team if it is in the organization's best interest to do so.
Meaningful Delegation
Take an inventory of the work you perform in a typical day, week or month. Is there anything of substance that you can delegate? I say the word substance as delegating only your menial tasks can frustrate team members. Instead try looking for something that will enable your employees to grow and learn. If you feel a project is too large or complicated for a particular individual's skill set then consider partnering up with that individual on the work so you can be there for guidance, advice and coaching.
Feedback and Recognition
Provide feedback to your team on a regular basis. Refer to failures as a learning experience and always give credit where credit is due. When someone on your team has done something of value send them an email thanking them and if you have a manager copy them on so all are aware of the credit that you are giving.
Mentoring and Support
Set aside thirty minutes to one hour each week for one-on-one sessions. If possible try and do these sessions in person rather than over the phone. Use this time to reflect on the employees activities from the previous week and to plan for the coming week. Provide help, support and guidance as required.
Take Responsibility for Mistakes
If there are any failings or mistakes within your department or function then don't start blaming your team. Take the hit yourself, your team will respect you for it. Say "sorry I made a mistake". Explain that procedures will be put in place to prevent the problem happening again and then move on.
Have Some Self Control
If you are going to learn how to be a better boss then you also need to learn how to have some self control. By this I mean control your emotions if you're angry or upset about something don't make it obvious to your team. Try and remain professional and continue to act as the role model that they expect of you. Make data driven decisions where possible try not to act on a hunch or make an emotional statement without carefully thinking through the consequences of what you do or say.
Have Integrity and Be Ethical
This should go without saying but always ensure that you are ethical in everything you do. Conduct yourself in the right way abide to laws, rules, standards and regulations.
Keep Learning
My final point for advice on how to be a better manager is simply to keep learning. Pass any new knowledge you acquire on to your team and also instil into your team the benefits they will achieve from their constant learning. Don't think about learning as something that is restricted to company sponsored training courses either – consider reaching out to your local college or university to see what offerings they have available or sign up for one of the excellent University driven courses that are now appearing for free online. Two great examples are coursera in the US and futurelearn in the UK.
Good luck with your efforts in learning how to be a better boss.
Go To Development
Go From How To Be A Better Boss To The Home Page