A warm welcome to the motivating quotes section of the web site. On here I list a number of quotes that I have found while continuing my research on leadership, development and motivation.
Quotes that I find motivational or inspirational or quotes that I feel might just give me a good kick in the right direction.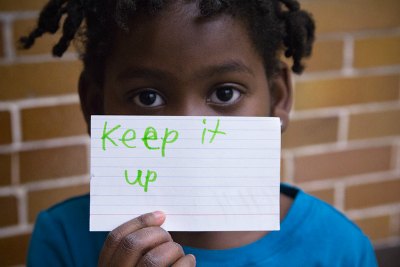 (Photo Credit: Steven Depolo)
Now For The Motivating Quotes…
"Do something. Do something to that, and then do something to that. Pretty soon you've got something."
—Jasper Johns, painter
"Guard your spare moments well. They are like uncut diamonds. Discard them and their value will never be known. Improve them and they will become the brightest gems in a useful life."
– Ralph Waldo Emerson
"If you want to lift yourself up, lift up someone else."
– Booker T. Washington
"And will you succeed? Yes indeed, yes indeed! Ninety-eight and three-quarters percent guaranteed!"
― Dr. Seuss
"There is a vitality, a life force, that is translated to you into action, and because there is only one of you in all time, this expression is unique. And if you block it, it will never exist through any other medium, and will be lost."
– Martha Graham
"Go confidently in the direction of your dreams. Live the life you have imagined."
– Henry David Thoreau
"It is never too late to be what you might have been."
– George Eliot
"Get going. Move forward. Aim High. Plan a take-off. Don't just sit on the runway and hope someone will come along and push the airplane. It simply won't happen. Change your attitude and gain some altitude. Believe me, you'll love it up here."
― Donald Trump
"Whatever the mind of man can conceive and believe, it can achieve."
– Napoleon Hill
"Believe you can and you're halfway there."
– Theodore Roosevelt
"In my experience, there is only one motivation, and that is desire. No reasons or principle contain it or stand against it."
– Jane Smiley
"I am not a product of my circumstances. I am a product of my decisions."
–Stephen Covey
"You have a coyote inside you and you have to get it out"
– Chuck Jones (The animator who created Wile E. Coyote, on how to draw one)
"The ability to convert ideas to things is the secret to outward success."
– Henry Ward Beecher – Clergyman, Abolitionist
"There is no such thing as a long piece of work, except one that you dare not start."
– Charles Baudelaire
"You miss 100% of the shots you don't take."
– Wayne Gretzky
"When all is said and done, more is said than done."
― Lou Holtz
"Build your own dreams, or someone else will hire you to build theirs."
– Farrah Gray
"The best revenge is massive success."
– Frank Sinatra
"Vision is the art of seeing things invisible."
– Jonathan Swift
"The reason most people never reach their goals is that they don't define them, or ever seriously consider them as believable or achievable. Winners can tell you where they are going, what they plan to do along the way, and who will be sharing the adventure with them."
– Denis Watiley
"We become what we think about."
– Earl Nightingale
"There's no good idea that cannot be improved on."
– Michael Eisner
"What impresses men is not mind, but the result of mind."
– Walter Bagehot
"Twenty years from now you will be more disappointed by the things that you didn't do than by the ones you did do, so throw off the bowlines, sail away from safe harbor, catch the trade winds in your sails. Explore, Dream, Discover."
– Mark Twain
"The mind is everything. What you think you become."
– Buddha
"Only put off until tomorrow what you are willing to die having left undone."
– Pablo Picasso
"The only thing standing between you and your goal is the bullshit story you keep telling yourself as to why you can't achieve it."
― Jordan Belfort
"The only place where success comes before work is in the dictionary."
– Vidal Sassoon
"A year from now you will wish you had started today."
– Karen Lamb
"I start where the last man left off."
– Thomas Edison
"Take up one idea. Make that one idea your life — think of it, dream of it, live on that idea. Let the brain, muscles, nerves, every part of your body, be full of that idea, and just leave every other idea alone. This is the way to success."
– Swami Vivekananda
"When someone tells me "no," it doesn't mean I can't do it, it simply means I can't do it with them."
― Karen E. Quinones Miller
"The most common way people give up their power is by thinking they don't have any."
– Alice Walker
Motivating quotes by Dale Carnegie
"People rarely succeed unless they have fun in what they are doing."
"Most of the important things in the world have been accomplished by people who have kept on trying when there seemed to be no help at all."
Motivating quotes by Walt Disney
"If you can dream it, you can do it."
"The way to get started is to quit talking and begin doing. "
Go From Motivating Quotes To Motivating
You may also be interested in quotes on the subject of motivation.