The motivation breakthrough is a book by Rick Lavoie aimed assisting parents, carers or teachers who look after children with learning disabilities.
The first three chapters are predominantly focussed on the author.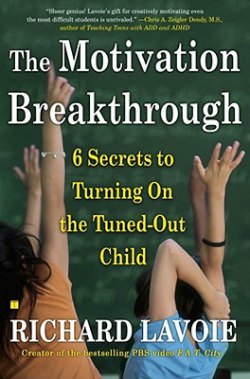 The book is quite US centric however many ideas can be adapted to a non us audience. A thought provoking book which enables understanding of how actions and behavior can affect a child's motivation.
Teaches the difference between motivation and behavior modification and provides ways to determine what motivates a child. Guides how this information can then be used to assist the child in reaching their potential.
Product Description
The Motivation Breakthrough explores proven techniques and strategies—based on six possible motivational styles—that will revolutionize the way teachers and parents inspire kids with learning disabilities to succeed and achieve.
Backed by decades of experience in the classroom, educator and acclaimed author Rick Lavoie explodes common myths and gives specific advice for motivating children with learning disabilities. He outlines parents' and teachers' roles, suggesting ways in which they can work together to encourage any child to reach his or her potential. Finally, he reveals what we can learn from some of the most powerful motivators in the world: advertisers. With empathy and understanding, Lavoie offers parents and teachers the key to unlocking enthusiasm and responsiveness, proving any child can be motivated to learn.
To purchase the Motivation Breakthrough from Amazon please use the links below…
The Motivation Breakthrough: 6 Secrets to Turning On the Tuned-Out Child
---
Go From Motivation Breakthrough To Motivating