I'm going to use this page as a kind of reference point to the core of my journal. The reason being, I don't expect this part of it to change too much on a day-to-day basis, so it's probably best just to link to it from the more diary-type entries of my journal.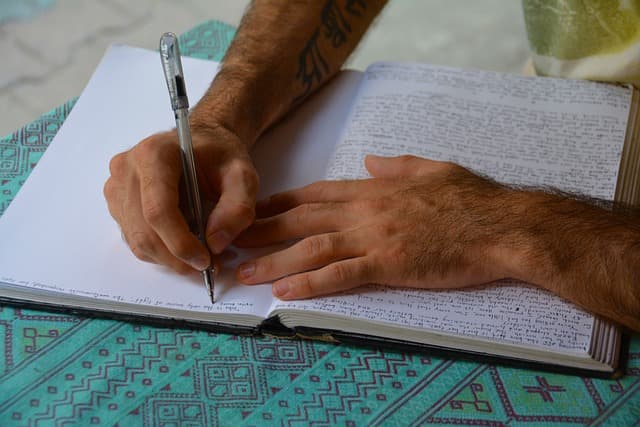 General
Keep doing your morning routine and the things that grow your business until you can replace them with something even more effective
I am grateful for…
NHS helping my son
Working on stuff that I enjoy
All the technical equipment that I need
A great family
Yorkshire water, it tastes great
A great set of friends
My local squash and racquetball club
What is your number 1 goal or top 3 – 5 priorities?
My number one goal is to have enough passive income from a number of different sources to fully support my family. Diverse sources of income are essential. Hal, author of the Miracle Morning, recommends not focusing on other income streams until your primary source is secure and providing you with adequate funds. I would say my primary source is definitely PlanIt-BookIt subscriptions. The goal is initially to keep afloat.
Current sources are:
a) Software As A Service (SAAS) subscriptions (PlanIt-BookIt (squash and equestrian), Executive Car, Kitchen Costings, Electric Vehicle Survey)
b) Website subscriptions
c) Football bot gambling
d) Horse bot gambling
e) Crypto bot
f) My own stock trading and investing.
g) Adsense publishing income from the websites I own
h) Affiliate income, currently only a very small amount from Amazon
Other ideas for extra income: write a book, create a course, offer coaching or consultancy, use other affiliate schemes than just Amazon, see if can make any money from our recent Love This referral project, public speaking (scary as never done much more than a Corporate presentation in my old life as an IT Manager for GE).
Create a foundational schedule that adds structure and intentionality to your days and weeks
Get the PlanIt-BookIt website in order
Make madabout squash profitable and a platform for promoting PlanIt-BookIt
Create an email to squash clubs – offering discounts on their current system
Target 5 squash clubs per day and record details and results in a spreadsheet
Sell bikes and technology on eBay – may have to wait until my son is healthy and we're out of isolation.
Create a charge point website for generating and selling leads.
List up to 10 micro goals
As you focus on a micro goal, consider the following:
Focus on 2 to 3 Important tasks per day
Work in bite-size chunks or do thin slicing to recall some book I read ages back. 
Follow pomodoro (25-minute tasks) – 1) Decide on task 2) Set timer for 25 mins 3) Work until the timer rings (any distractions write down and then immediately return to the task) 4) When the timer rings place a checkmark on paper 5) Take a 5 min break 6) 4 checkmarks take a 15 to 30 min break
Work I probably need to complete first though includes:
I need to publish PlanIt-BookIt one evening as it has some changes related to submitting scores to Squash Levels (DONE)
Finish my Innovation Creativity site backup restoration
Create a proposal for a prospective new customer who is involved in a walking club.
Create a schedule

Create a recurring schedule made up of focused time blocks dedicated to your highest-priority activities. Moving the needle in your business gives you more freedom.
Plan in recreation and family time and 'whatever I feel like' time. See location 1394 in Miracle Morning for an example.

PlanIt-BookIt Website

List competitor sites
Visit the sites, what do they have that is good that my site doesn't
Visit general good-looking sites, I think I have a collection started in Microsoft Edge
Am I selling our story well enough?
Build an email list

Madabout Squash Profitable

Finish the squash grips page – could I sell single squash grips? What price would they be profitable?
Create a free squash mini league page, make it all better than the current competition
Use a mindmap to list all possible keywords that I should be writing for
Build an email list

Email to squash clubs

Start compiling a list of clubs that need contacting. Maybe use England squash – plus I think the existing free mini-league lists some of their customers.
Create a draft email

Target 5 squash clubs

Create a spreadsheet to collect results, a bit like a manual CRM system
Send out 5 emails or connect to people related to squash on LinkedIn. "You can predict and control sales results by clarifying, calculating, and committing to the process that was responsible for producing the results." How many do you need to reach out to make a sale, 10, 100 – eventually you will know the number, then make an unwavering commitment to follow through on the number of calls or connections that you need to make. The law of averages will make you win. Let go of any emotional attachment to negative results. Remain focused on the bigger picture.
Clarify Your Unique Value
Gifts, experiences, abilities, etc. that you can use to add value to others.
Mine are programming and development skills, leadership and management skills, project management skills, strategic management, and entrepreneurial ideas.
Who is your target audience for the above?
For Unwavering Focus
What's working? Do more of. Things that are actually contributing to growing your business. Pareto 80/20 rule, what 20% of tasks provide 80% of the results?

Publishing my journal on here – its keeping me focussed (WEAK – AS NOT CONTRIBUTING TO GROWING MY BUSINESS)
Testing new strategies on gambling bot (ASLO WEAK, MAY PROVIDE SMALL INCREASE IN INCOME)

What do I need to start doing? To accelerate results

 Contacting squash clubs about using PlanIt-BookIt (HIGHLY IMPORTANT AND I DON'T DO IT)
Making the promotional website best in class, it needs to tell a convincing story.
I need to build a community of squash followers through my madaboutsquash site and through Facebook pages
Create a database (like a CRM system) of prospective clients, record all interactions and follow ups. Apparently LogSeq can be used for this, I may need to look up best practices for this on the Internet. 

What do I need to stop doing? Holding me back

Less TV and socializing, more focus on core activities, although all work and no play makes Jack a dull boy, I think the saying goes!
Probably need to stop looking at WhatsApp and Emails every two minutes
Vision & Major Goals
My vivid vision is: TO DO
My annual goals is (By 10th November 2023): TO DO
My quarterly goal is (By 10/02/2023): TO DO
Note: goals must include: revenue, profit, customer engagement, employee engagement and strategy.
A yearly goal, becomes 4 quarterly goals
A quarterly goal becomes three monthly goals
A monthly goal becomes 4 weekly goals
Weekly goals become daily goals and then commit to doing them