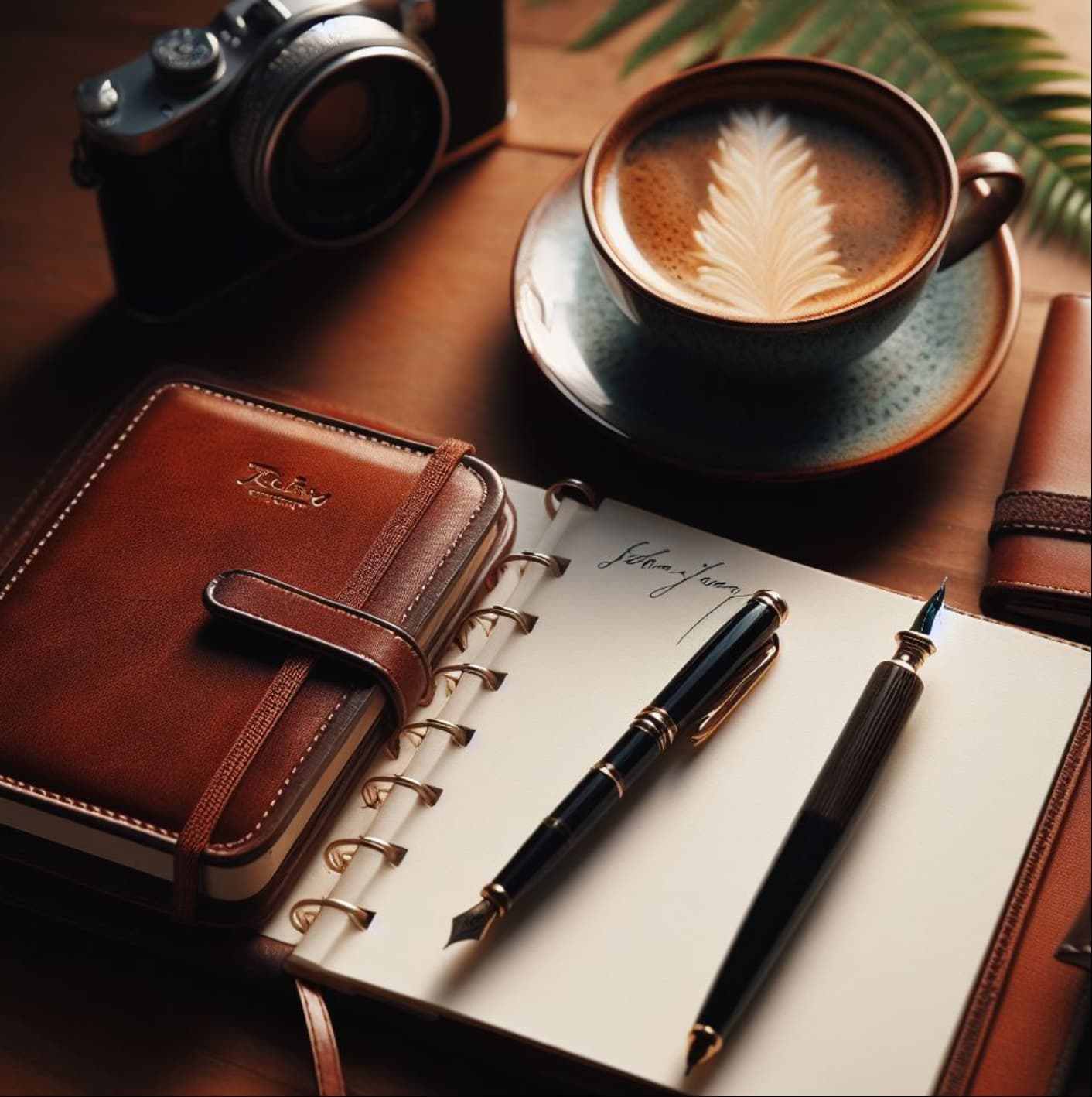 Keeping a journal is said to be a powerful tool for your personal growth and development. If you keep a journal it can help you clarify your thoughts, set personal goals, and track progress against such goals. You can also use a journal to reflect on your behaviors and experiences.
Some tips and ideas to use in your own journal include:
Write Down Your Goals
Writing down your goals is thought to help make them happen. It acts as a powerful way to make them more concrete and increase your chances overall of achieving them. Be specific about what you want to achieve and the steps you need to take to get there. Write about your progress and make sure to celebrate your wins along the way.
Keep A Daily Log
I like to do this if nothing more than as a reminder that I can look back on in future days to remind me of times gone by. Write about things that you did or ate, places you visited, and any other experiences throughout the day. Think about things that you are grateful for and jot them down in your journal too. What challenges do you face and what lessons have you learned? This can help you stay present and mindful, and provide a record of your growth and progress over time. That said, don't beat yourself up if you miss a day or two, you don't want journalling to be a chore. I keep my daily journal online on this website, although as you will notice I am occasionally too consumed with work or other projects and therefore occasionally miss a day or two (or more🙄)
Journal Your Problems
Use your journal to work through difficult decisions or challenges you are facing, these could be either at home or at work. Write about your options and then weigh up the pros and cons.  Explore your feelings and thoughts. This can help you gain clarity and perspective, and find solutions to your problems.
Express Your Creativity
Use your journal as a means to express your creativity and explore any ideas that you may have. Maybe poetry, or drawings, or simply brainstorm new projects. This can help you tap into your imagination and find new inspiration.
Reflect On Your Experience
Use your journal to reflect on your experiences and learn from them. What you have learned and what mistakes have you made? Are there any insights or learnings to be gained for the future? This can help you grow and develop as a person, and avoid repeating the same mistakes in the future.
Practice Gratitude 
What are you grateful for? Write them down in your journal. Expressing gratitude is meant to cultivate a positive mindset and enable you to focus on all the good and positive things that are in your life. It can also help you appreciate the people and experiences that bring you joy and fulfillment.
Set Intentions
Use your journal to set intentions for your day, week, or even month or year. Write about what you want to accomplish, how you want to feel, and what you want to focus on. This can help you stay motivated and focused on your goals.
Log What You Want To Make Happen
Be very intentional about what you want to make happen. Decide what you want. Set yourself a challenge and write a new story. Declare what it is you want to make happen.
e.g.
"I'm going to go on an adventure to see what's possible."
"I'm going to open myself up to building the business of my dreams and creating the success that I want."
"I'm here for more success, more joy, more abundance, more freedom, more peace.
"I'm here to make more impact, to be of the highest service, and to share my ideas, knowledge & experiences with the world"
"I'm ready for the world to see more, To shine my light"
What do you want? Sign and date it
Want To Keep A Journal? Here's Some Journal Prompts
Write about your journey. What's happening, the progress that you are making, the challenges that you are facing, and the things that you are grateful for. Acknowledge the wins.
Document the people who have helped you, and the tools and resources that have helped you. The lessons that you are learning and the tips you have to share.
Document the names of your first subscriber, follower, customer, and then also the 100th.
Write down your goals over and over again. Pour your heart, soul, sweat, and tears into your journal.
In your journal, get really clear on what you want, and then set yourself a fun challenge. Look at it as an adventure, then take tiny steps in the right direction. Because success is a set of tiny, messy, imperfect steps that you take over and over again.
One example step would be to start to build an email list – follow someone else's blueprint.
Write down what your next step is in your journal and then take action.
Decide who you need to be. How would the person I'd like to be, do the things I'm about to do? E.g. you want to be International Sales Person of the Year. If you were already in that position then you wouldn't be turning up to work in scruffy clothes. You'd be organized. Show up as if you already were that person.
Write in your journal why 12 months from now you didn't achieve your goals, now go and do the exact opposite to make the goals happen.
Conclusion
In conclusion, keeping a journal is a powerful tool for personal growth and development. It can help you clarify your thoughts, set goals, track progress, and reflect on your experiences. Use these tips and ideas to create a journaling practice that works for you, and watch as it transforms your life.
References:
https://debrasmouse.com/keeping-a-journal-helps-you-create-a-life-you-love/
https://healthy.kaiserpermanente.org/health-wellness/healtharticle.7-benefits-of-keeping-a-journal
https://www.becomingminimalist.com/reasons-to-journal/
https://dayoneapp.com/blog/journaling-benefits/
https://www.betterup.com/blog/how-to-start-journaling
https://www.deanbokhari.com/journaling-ideas/
Plus my notes from the Own Your Own Future Course by Dean Grasiozi and Tony Robbins