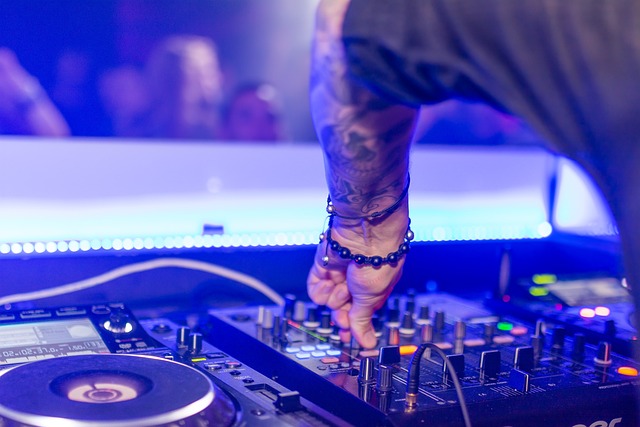 Morning Routine, General Diary, Thoughts, and Ideas
Feeling much better today due to much less alcohol last night. Partly completed my morning routine.
My son Jack is still at around month 9 post-transplant and all is still looking good for him 🤞.
Today I made myself a coffee and then made notes from an EdEx scrum course that I had enrolled in but the free version was expiring today.
I then re-wrote an email going out to our local squash club members. I re-wrote it for a friend to make it slightly more understandable.
I ran horse-bot, yes, I am still dabbling with my horse gambling bot, in fact, the latest strategy almost appears to be working. We've made a small profit every day for the last 7 days!
At last I made a start on writing up my notes from the "Own Your Own Future" course mentioned in the previous days sometime soon.
Today we're planning to go to a local restaurant who are putting on a DJ and selling pizzas, hopefully, it will be fun. So today Pic is of a DJ – Image by Aurélien from Pixabay
Leftover minced beef curry, one sausage, and a load of cooked ham. My body fat scales are showing a loss in body fat, which is encouraging.
Today I Am Reading
Today, once again I haven't read anything, I just did that one mastermind.com persuasion course.
This was my entry from January so will leave it in so that I can re-focus my reading again starting tomorrow. I know I said this yesterday, give me some slack, I'm slowly getting back into this journalling thing!
My goal today is to read some of Build and Promote Profitable SaaS Business
My starting point for today is location 1398 or 56% complete.
My ending point for today was location 1413 or 57% complete.
My Learnings Today
Keynotes from the book today were:
None – as need to catch up with this book!
My Core Journal
What did you achieve yesterday?
Previously (Saturday, August 26th) I:
Shop for food ✅
Persuasion (Sales) course
What would make today great?
Keeping the below from Jan just for reference again, will add more detailed goals tomorrow.
2 to 3 tasks, see core journal – micro goals
My micro goals for today (Sunday 27th) are:
Write up some of my Own Your Own Future notes.