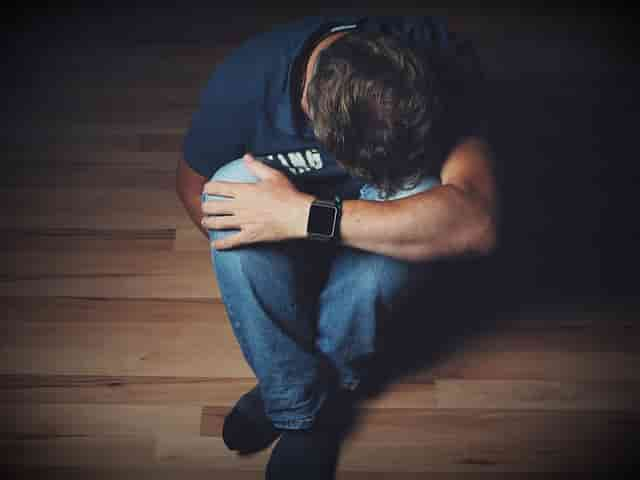 Morning Routine, General Diary, Thoughts, and Ideas
I got up pretty late today and completed most of my morning routine. Not had a great day today, if I'm honest, I think all the issues with my son's health and bone marrow transplant hit me in the face a little today. I'm not usually one to have any kind of depression but today I felt terrible. Feel sorry for all those people out there that have depression on a regular basis. I did some of my Wim Hoff breathing exercises that helped slightly. The picture is of a depressed man as that's a bit of how I felt today.
Today is day 27 post bone marrow transplant for my son, and we got some new blood numbers, all are still trending in the right direction, so 🤞.
I did little work today as I felt too "down in the dumps".
I went to my local squash club and played with one of the fittest guys in the club. I lost 3-0 which was kind of expected. I think it was a bit ambitious playing someone so good when I've had almost 2 months off from playing due to my son's hospital stay.
We did another late-night shopping trip so as to avoid people that could potentially pass something nasty on to us that we subsequently pass on to our son with a limited immune system.
One of our new squash club booking system customers is using Eventbrite for tickets to their pro squash player events. They probably aren't aware that our booking system has an events system built into it, but that also got me thinking… What if we pulled out the events system as a separate product and went into competition with Eventbrite? I would just need a glammed-up website, better pricing, and a load of advertising budget! Maybe something to add to the projects to consider list. 
Food Diary
Today I ate:
A cheese and ham omelet for breakfast and then a load of meat for lunch. I had one pack of crisps as a snack and nothing for dinner.
Today I Am Reading
My goal today is to read some of Build and Promote Profitable SaaS Business
My starting point for today is location 681 or 27% complete.
My ending point for today was location 733 or 29% complete.
My Learnings Today
Keynotes from the book today were:
Integrate into your product a:
payment system

Part of this was covered in yesterday's journal entry
Need a system that accepts a payment card and returns the result of the transaction to the site. We already have two of these, set up, we have PayPal and we have Stripe. So our customers can choose between the two. For customer payments (recurring billing) we use a third-party direct debit provider which in my opinion is excellent, called GoCardless. It's important that the payment service works well in the country in which your customers are based.
Include reviews on the pricing and landing pages
Include trust badges and logos from reliable companies in a prominent location. Payment certifications boost loyalty, e.g. verification by Mastercard SecureCode.
Make it a clear customer journey on the way to checkout. The user will be looking for accreditations, social profiles, support, and anything else that can confirm trust in the process

email automation
customer messaging platforms.
My Core Journal
What did you achieve yesterday?
Yesterday (Monday 19th) I:
Updated this journal and that was about it
What would make today great?
2 to 3 tasks, see core journal – micro goals
My micro goals for today (Tuesday 20th) are:
Still need to order some Skis and Boots, ready for my skiing trip in January. 
Nothing, feeling down, all the shit from the last 2 weeks has hit me hard today! ☹