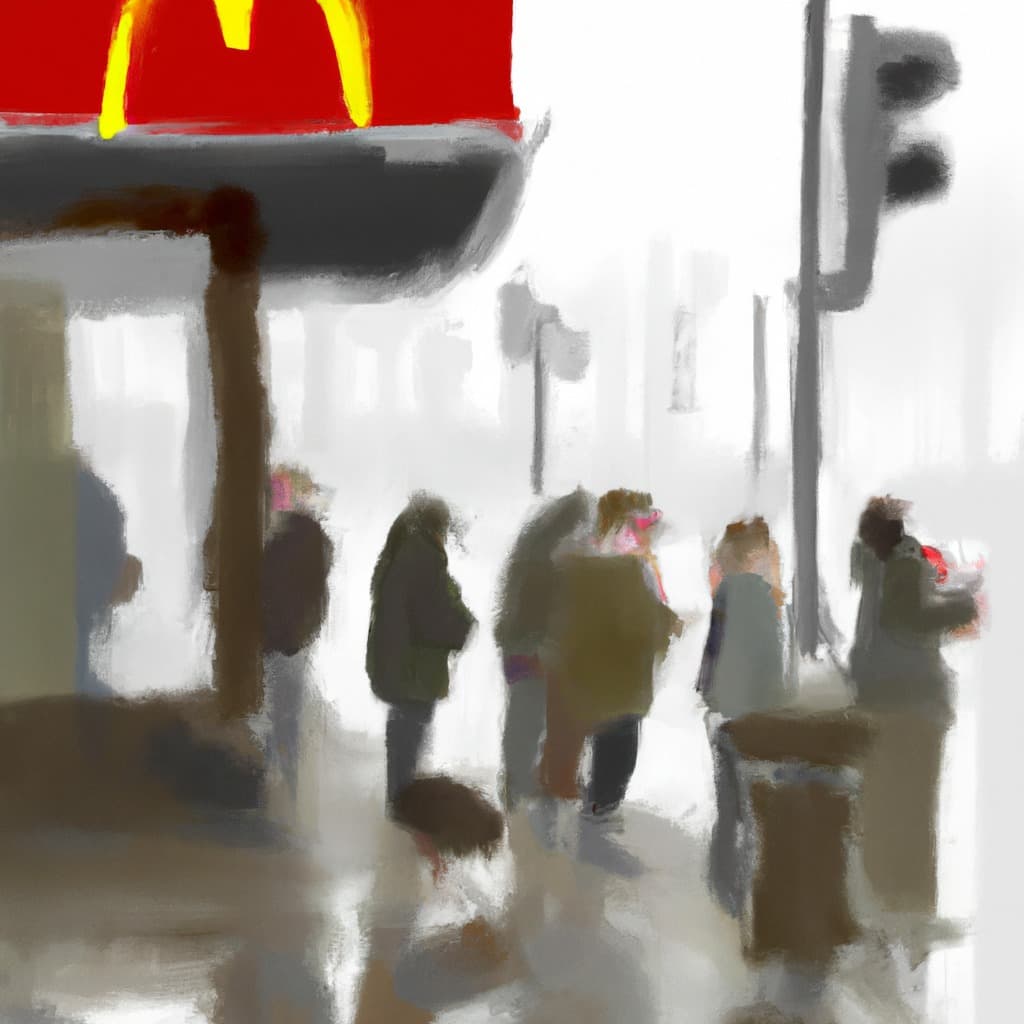 Morning Routine, General Diary, Thoughts, and Ideas
Had a decent nights sleep in hospital last night, although was a bit chilly as my son likes to have a fan on even in the winter. Got up and completed the bulk of my morning routine.
Day 15 for my son post-transplant and his numbers are looking good for leaving hospital in a week or so.
For todays post photo I got the dalle AI image generator bot to draw people stood outside of McDonalds in the style of LS Lowry. Pretty impressive it is too!
Food Diary
Today I ate:
Four slices of toast with the baked beans that my son left for breakfast.
More hospital food in terms of a jacket potato with coleslaw, cheese, and pasta salad.
A couple of leftover chips and gravy.
And then a chicken curry from the hospital followed by jam sponge and custard, lovely, but not good for me!
In the SAVERS acronym R is for Reading
My goal today is to read 20 minutes of, The Compound Effect by Darren Hardy
My starting point for today is location 2072 or 91% complete.
My ending point was I finished the book, woohoo!
In the SAVERS acronym, S is for Scribing
Keynotes from the book today were:
Finished the book today. It finished with a general conclusion of the book. My general takeaway from the book is that by consistently doing regular positive steps that drive you forward towards your goals that these compound to great success over time.
Need to pick a new book to start now.
My Core Journal
What did you achieve yesterday?
Yesterday (Wednesday 7th) I:
Met with a squash club customers new committee ✅
Met with an EPOS till providing company ✅
Went to hospital for an evening stay ✅
Caught up with this journal as slightly behind ✅
What would make today great?
2 to 3 tasks, see core journal – micro goals
My micro goals for today (Thursday 8th) are:
Today I want to finish my restore of my Innovation-Creativity site. I used to have it with a company called SiteBuildIt – who are great by the way, but it's a little too expensive to host one site when I pay for a load of Micro Azure servers that I can host on myself!