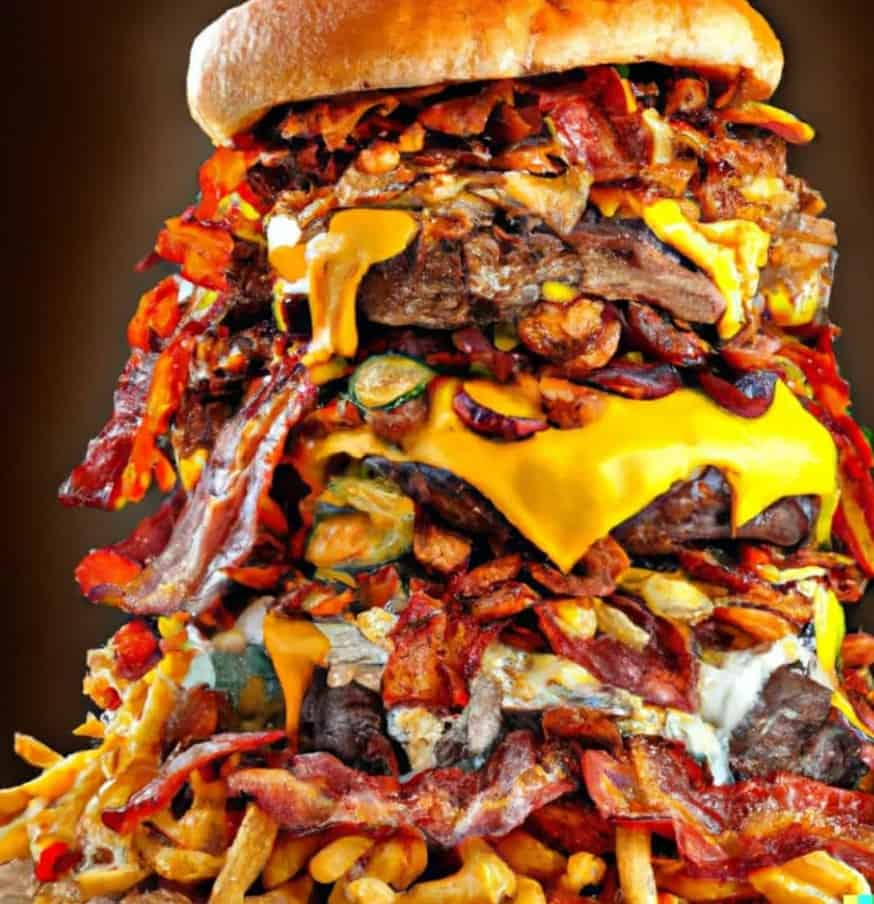 Morning Routine, General Diary, Thoughts, and Ideas
Got up relatively late and completed my morning routine. 
Today is day 29 post bone marrow transplant for my son, all is still good! 🤞.
My wife and I are crawling up the walls having to isolate ourselves while the rest of the world post covid are not, so last night we decided to walk to a local wine bar. The bar was quite busy so we sat outside in the cold, in our coats, and had a few drinks. Turned out to be quite an enjoyable night, was great to get out of the house. I felt a little rough today though.
Due to the beer and wine last night we needed to feed our hangover, so we did a trip to McDonald's drive-through, which always seems like a great idea until you've actually finished the meal and feel like crap afterward. So today's picture is an AI-generated big burger to depict all the Mcdonald's crap I ate for lunch!
Played racketball in the evening, and my fitness is slowly coming back as I beat the friend that beat me last week.
Food Diary
One packet of crisps, one Big Mac, one double cheeseburger, and a load of fries.
For dinner, I had two lovely, decent-sized pieces of pork pie at my squash club. I'm guessing Pork Pie is a UK thing, I doubt that you get them in the US. They are excellent though. If you're from the US and you visit the UK make sure to get yourself a pork pie from a decent butcher while you're over here! You will need lashings of HP sauce to go on top!
Today I Am Reading
My goal today is to read some of Build and Promote Profitable SaaS Business
My starting point for today is location 750 or 30% complete.
My ending point for today was location 762 or 31% complete.
My Learnings Today
Keynotes from the book today were:
Integrate into your product a:
payment system

Part of this was covered in previous journal entries

email automation

Part of this was also included in previous journal entries.
Set up emails for various user interactions and inactivity, for example not using the product for a certain amount of time. Maybe send a coupon or ideas on how to use certain features. Trigger emails need to offer solutions. 
Create use cases for emails that customers should get immediately after sign-up. Ask for the email on sign-up. Get further information in the second step. So you can still contact them if they abandon the sign-up.
Popular email offerings are SendGrid, MailChimp, and Active Kit. They all cover transactional and marketing emails.
When developing your blog think of ways to gather your visitor's emails for future email marketing.
You need to create the email sequence that guides them through the setup process.

customer messaging platform.
My Core Journal
What did you achieve yesterday?
Yesterday (Wednesday 21st) I:
Spent most of the day completing some complicated government form related to benefits due to caring for my sick son. ✅
What would make today great?
2 to 3 tasks, see core journal – micro goals
My micro goals for today (Thursday 22nd) are:
Still need to order some Skis and Boots, ready for my skiing trip in January. 
Sort out my MasterCard login as I seem to be unable to log into online banking. ✅
Catch up with my personal banking accounts, I still use Microsoft Money for this purpose ✅
Update the Christmas opening times for one of my customers ✅