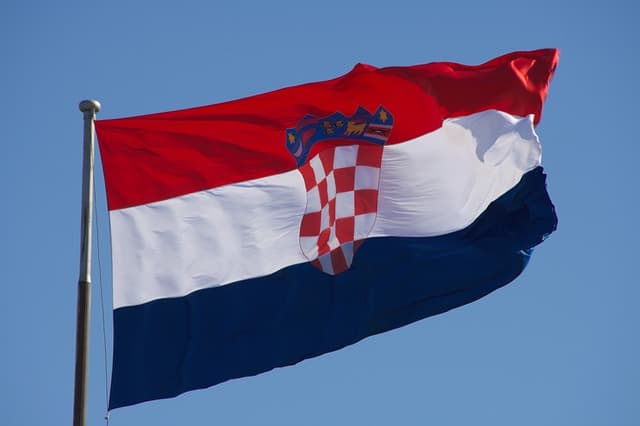 Morning Routine, General Diary, Thoughts, and Ideas
Got up just after 9 am and completed my morning routine.
Today is day 24 post bone marrow transplant for my son, and all is still good.
Had a pretty good day, did some work on my Objitec business website, and created a blog page for my Mad About Squash website.
I watched the third-place decider World Cup game between Morocco and Croatia. Croatia won, so today's picture is of a Croatian flag.
Food Diary
Today I ate:
Some overcooked pork belly that I did on the BBQ last night, was rather crispy!
Then I had two poached eggs, some bacon, sausages a few mushroom,s and a fried tomato
Chicken wings are planned for dinner
Today I Am Reading
My goal today is to read some of Build and Promote Profitable SaaS Business
My starting point for today is location 462 or 19% complete.
My ending point for today was location 571 or 23% complete.
My Learnings Today
Keynotes from the book today were:
Today was about how to get a SaaS app developed, not of much relevance to me as I can develop myself and my two business partners are excellent developers.
You can use
Upwork
and
Freelancer
for freelancers. Rates can be as low as $20 per hour
You are responsible for your website so it's up to you to decide on the number and type of pages that you want to include and the landing pages that your website will have.
Consider having internal pages for a dashboard, user cabinet, etc. Take ideas from websites that you like or that impress you. What features are the most appealing? Mockup ideas in WordPress, a text editor, or using a mind mapping tool.
The content should:
Answer questions that your prospective clients might have
Be good as it "is the blood of the organism you create", without it the business is silent.
Try and get all your content in place within 30 days.
Try and create short sentences as they are easier to read.
Include customer reviews if you can as that is what customers pay attention to.
Show what to expect from the product on no more than 2 to 3 screens.
Keep a minimalistic impression while showing the general features of the product.
Consider your end user and create content that appeals to their pain points
Include a story about how the company came into existence on your home page. Ensure that the story is interesting and is told in the best way to make people feel good about your business.
Actively collect customer feedback from your product to use on your website
My Core Journal
What did you achieve yesterday?
Yesterday (Friday 16th) I:
I created the first draft of a recurring work schedule ✅
Started a plan for a free quote page for my Objitec website ✅
What would make today great?
2 to 3 tasks, see core journal – micro goals
My micro goals for today (Saturday 17th) are:
Still need to order some Skis and Boots, ready for my skiing trip in January.
Complete the free quote page on my Objitec website with a call to action. ✅
Add a squash excuses blog page to my Mad About Squash Website. ✅