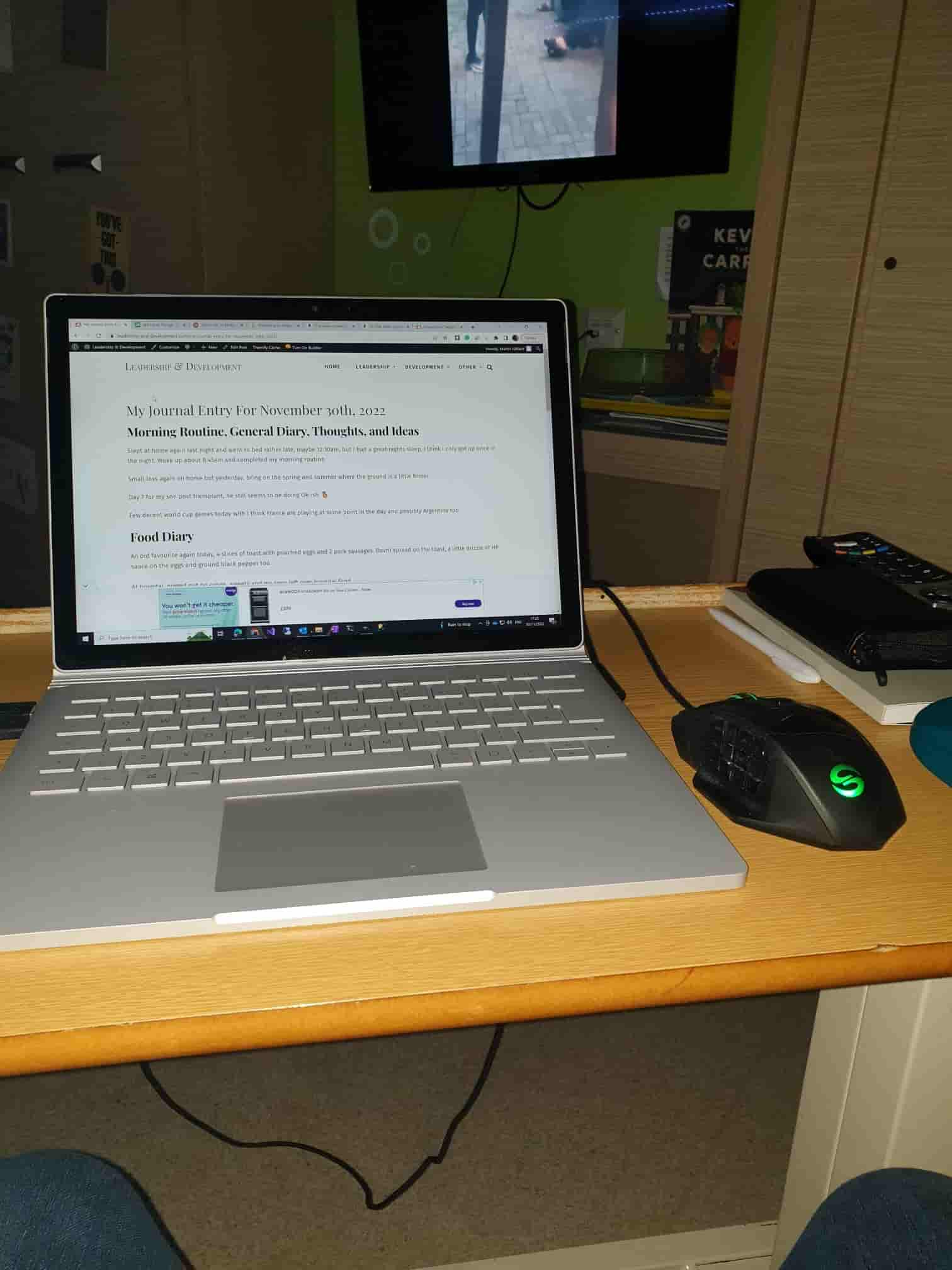 Morning Routine, General Diary, Thoughts, and Ideas
Slept at home again last night and went to bed rather late, maybe 12:30am, but I had a great nights sleep, I think I only got up once in the night. Woke up about 8:45am and completed my morning routine.
Small loss again on horse bot yesterday, bring on the spring and summer where the ground is a little firmer.
Day 7 for my son post transplant, he still seems to be doing Ok-ish. 🤞
Few decent world cup games today with I think France are playing at some point in the day and possibly Argentina too.
Todays photo is the portable office that I have set up in my sons hospital room.
Today I bought some shares in British American Tobacco as they look to have a decent dividend pay out, also bought GlaxoSmithKline, and HSBC Holdings and EasyJet as their bookings are back to pre-pandemic levels, and then alsoo Neurocrine a brain drug company, no dividends but financials look good. I sold Lloyds Bank, British Petroleum and Ascent Solar Technologies, Inc.  
Food Diary
An old favourite again today, 4 slices of toast with poached eggs and 2 pork sausages. Bovril spread on the toast, a little drizzle of HP sauce on the eggs and ground black pepper too.
At hospital, pigged out on crisps, sweets and my sons left over hospital food.
In the SAVERS acronym R is for Reading
My goal today is to read just 10 minutes of a brand new book, The Compound Effect by Darren Hardy
My starting point is location 251 of 2286 or 11% complete.
My ending point for today was location 788 of 2286 or 34% complete
In the SAVERS acronym, S is for Scribing
Keynotes from the book today were:
You need a new plan of action. Small, Smart choices + Consistency + Time = RADICAL DIFFERENCE. 
Choose between $3 million today or 1p that doubles ever day for a month, you should always take the 1p as the compound effect results in $10.7 million by day 31! 
Make small smart choices and perform them consistently over time. The author gives an example of someone who cuts out a few calories from his diet every day, reads a little from books that help him grow, and does a little exercise each day compared to a guy who just plods on eating and watching TV. Over a year or two these habits have a compound effect. 
Write out half a dozen small, seemingly inconsequential steps that you can take every day that can take your life in a new and positive direction.  
For me personally, I think they would be:
Steps I can take
– At least one website post  
– Some new code  
– 10 minutes brisk walking on the treadmill  
– Actively invest small amounts in dividend paying stocks  
– Work for one of my customers per day  
– Skim read newspapers and magazines  
– Sell one thing on eBay  
– Do a household chore – dishwasher, rubbish, tidying up  
Stuff I should stop doing  
– Drinking on school nights  
– Snacking  
– WhatsApp messaging  
Past successes  
– Writing  
– Websites  
– Coding – Need to improve and do more  
You are 100% responsible for everything you do, relationships, work, etc.  
Preparation (personal growth) + Attitude (belief/mindset) + Opportunity (a good thing coming your way) + Action (doing something about it) = Luck  
Track and measure everything that you do… I am going to start tracking everything that I [eat] on [date]  
Things I could track…  
– Items sold on eBay and amount  
– Food eaten  
– Time on customer websites  
– Time on Objitec websites  
– Exercises completed  
– Racketball games  
– Alcohol consumed  
– Potential customers reached out to  
Record at least one thing you want to track for a minimum of 21 days  
My Core Journal
What did you achieve yesterday?
Yesterday (Tuesday 29th) I:
Finish walking club proposal ✅
Reach out to my charge point customer ✅
What would make today great?
2 to 3 tasks, see core journal – micro goals
My micro goals for today (Wednesday 30th) are:
Start work on my demo to my charge point customer

Do a pricing page on our Objitec website – in fact it needs a lot of improvements 
Do more work on finishing the restore of my innovation website