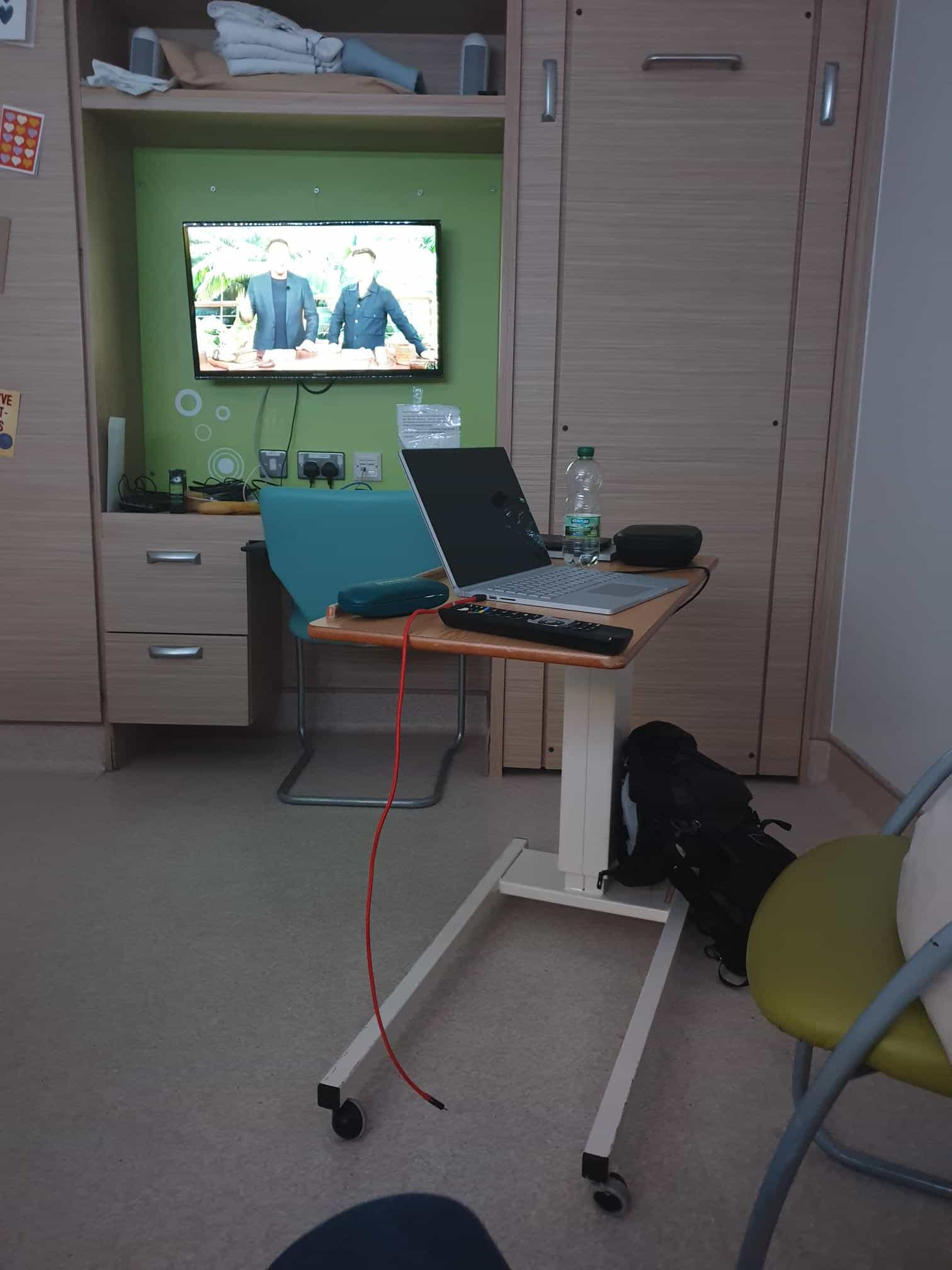 Morning Routine And General Diary
I slept Ok last night, possibly drank a few too many Friday night glasses of Vino, I got up and completed my morning routine.
AI horse gambling bot had a terrible day yesterday, was about £9 down by the end of the day, today, so far it's looking a little better at a couple of quid up so far.
I'm swapping overnight stay hospital duties with my wife today, I'm staying the night in hospital tonight. Heating costs a fortune in the UK at the moment, but I quite like working and sleeping when it's cold so the house is quite cold. I put the heating on full as soon as I got up so it's nice and warm for her when she comes homes. The smart meter is already adding money on like a petrol (gasoline) pump!
The picture above shows my portable office that I have set myself up with in my sons hospital room.
Watched a Stephen King film called 1408 on Netflix with my son in hospital, just prior to my first night staying over in hospital with him.
Food Diary
Well, after a terrible day yesterday, so far, I've done slightly better today. For a late breakfast (brunch?) I had 2 fried eggs, one sausage and a beef burger without a bun, so very low carbs so far today!
In the SAVERS acronym R is for Reading
My goal today is to read 10 minutes of my new book that I've decided to read… The 7 Levels of Communication: Go from relationships to referrals. 
My starting point for today is location 141 of 2305 or 6% complete.
My ending point was 373 of 2305 or 16% complete.
In the SAVERS acronym, S is for Scribing
So far the book is a bit of a story about a real estate agent who's hit on hard times having a meal at a restaurant with a succesful, positive lender. 
My Core Journal
What did you achieve yesterday?
Yesterday I:
Caught up on my journal
Completed a lengthy NHS survey and booked an appointment for blood tests, all for research, but I also might find out a little about my current state of health.
Bought myself some more time with my potential customer, not had time to work as much with visits to the hospital.
Visited my son in hospital
What would make today great?
2 to 3 tasks, see core journal – micro goals
My goal for today is to:
Finish my summary of the Miracle morning book that I read
Visit my son again in the hospital
Use my time in hospital to read a little more than normal