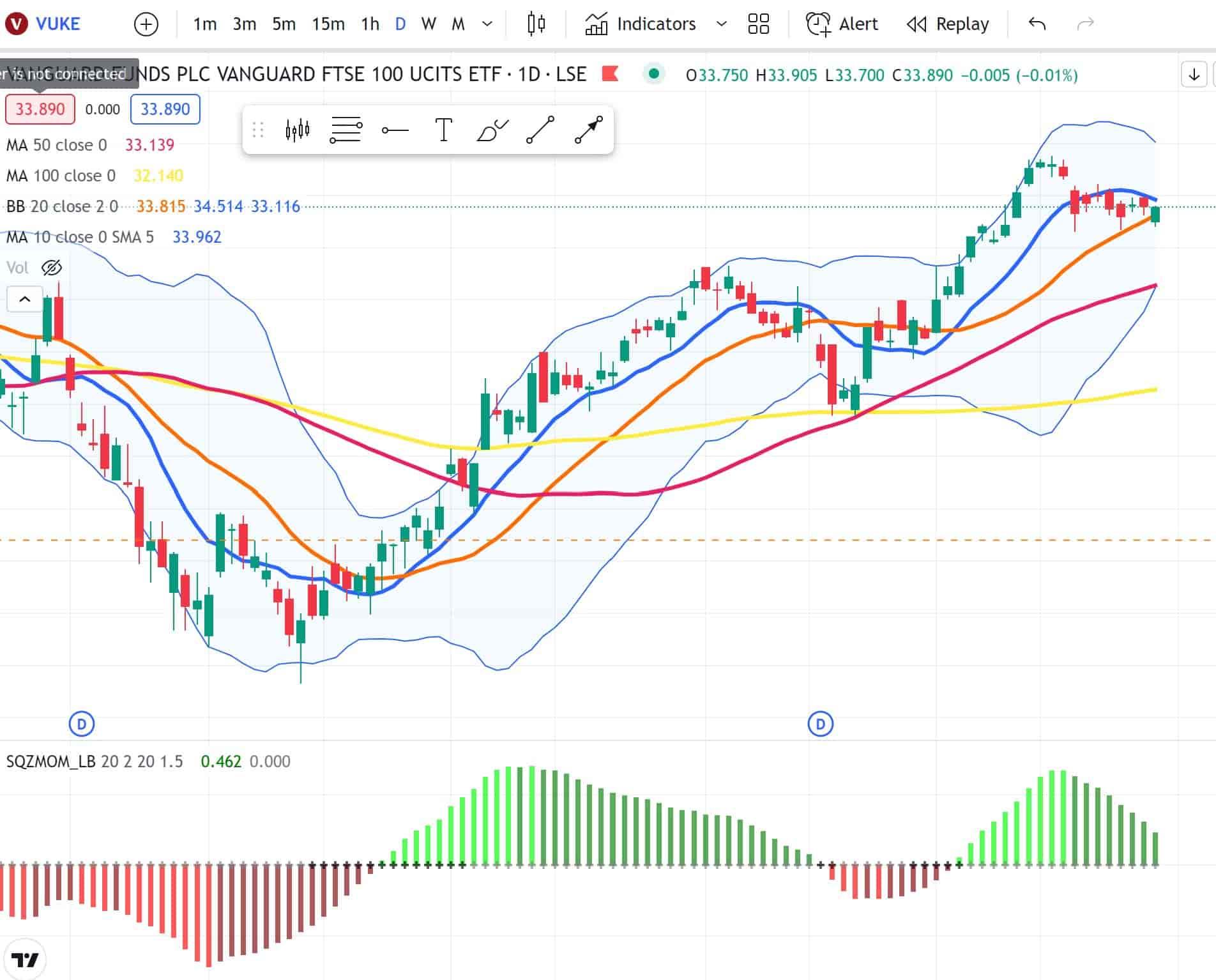 Morning Routine, General Diary, Thoughts, and Ideas
I got up fine this morning, the problem was that my son didn't get up. He's getting very demoralized with homeschooling – it's not working for him. I completed some of my morning routine. 
Today is day 68 post bone marrow transplant for my son. 🤞
Today's picture is a daily candle chart for the FTSE 100 as today I am mostly going to be buying some new shares for my portfolio. Although I doubt I will be buying the FTSE 100 as it currently looks to be on a bit of a high and I can't see it lasting.
Not sure yet, but I'm definitely going back to a keto or carnivore diet as I'm getting a little porky from all the carbs I've been stuffing down my face!
Today I Am Reading
My goal today is to read some of Build and Promote Profitable SaaS Business
My starting point for today is location 1398 or 56% complete.
My ending point for today was location 1413 or 57% complete.
My Learnings Today
Keynotes from the book today were:
That when you start promoting your SaaS product you should start using Google Tag Manager + Google Analytics. Something new for me there as I have heard of and currently use Google Analytics, but I've never even heard of Google tag manager.
It also suggests using Google Search Console, which I also currently use, and Hotjar which I've heard of before, something to do with website heatmaps, although I've never actually used it before. 
I just signed up to Hotjar and added the installation code required to start monitoring my
PlanIt-BookIt
website.
The book mentioned a number of sites that keep audiences updated on new technology. Two that I already use
Product Hunt
and
Reddit
and a new one that I have just signed up for called
BetaList
.
It says that BetaList is great for SaaS companies and is good for getting initial feedback from users and a possibility of getting your first sign-up from using it. Useful for early-stage Saas
My Core Journal
What did you achieve yesterday?
Previously (Saturday 28th and Sunday 29th) I:
Went shopping played a bit of racketball, watched some TV, and generally had a relaxing weekend! ✅
What would make today great?
2 to 3 tasks, see core journal – micro goals
My micro goals for today (Monday 30th) are:
Do my personal finances as I am behind with them
Add some more shares to my portfolio
Work on the high-level plan
Continue ensuring digital assets are connected to Google Analytics